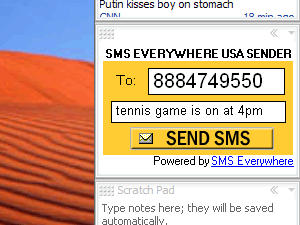 Send text messages to cell phones in USA from Google Desktop. Type in the phone number and your message. Then press SEND SMS. It's simple. More information about our gadget for sending text messages is on our website where you can learn about our connectivity and other features.
Coverage includes USA only.
Planned features: address book, message scheduling.

Download SMS Everywhere Sender
Current version is 1.0 (June 28, 2006)
We want to improve this gadget so please send feedback.
Google Desktop is required for this gadget.